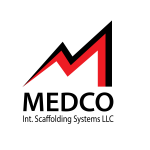 Medco is the manufacturing arm of the Delmon Group. From modest beginnings, Medco has grown to become one of the top manufacturers of scaffolding and formwork in the UAE. Initially, production focused solely in the Dubai market, but quickly expanded our geographical area as well as our product range, now supplying to the wider region.
With a reputation for innovation, quality and reliability we have become one  the most trusted manufacturers in the region. Currently, we employ modern equipment to produce a variety of highly engineered equipment, which is designed and developed in-house. Our practical experience in the region ensures that our equipment is well suited to the unique demands of the construction industry in the gulf.
Today, Medco has a number of facilities producing a range of equipment for both the construction and civil engineering industries and we continue to grow. We also have standard scaffolding and formwork manufacturing. Medco now produces bespoke equipment for a number of sectors, including oil and gas.