Delmon Complete Solutions
Project Management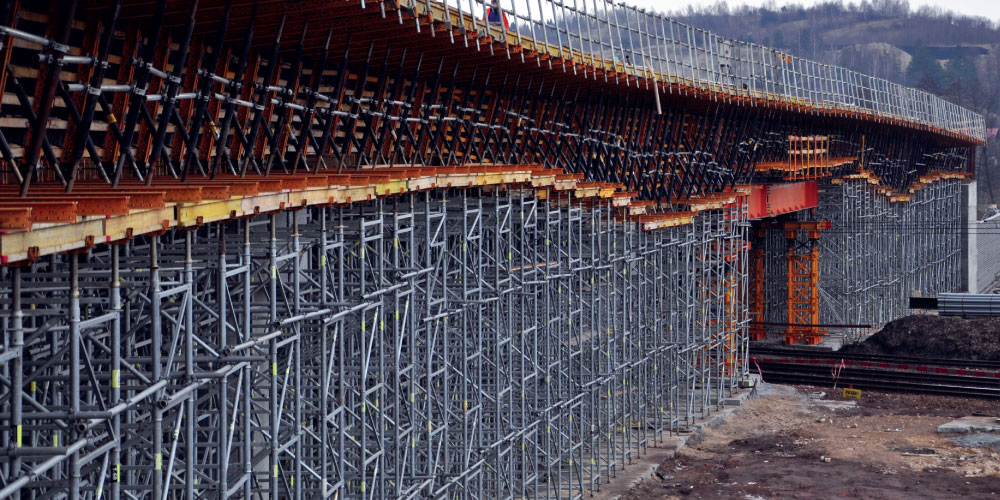 Delmon H20 Timber Beams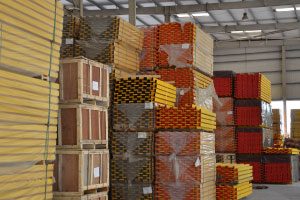 Delmon H20 Timber Beam. High quality with engineered three ply web, this timber beam is designed to withstand a shear resistance of 11kN. European manufactured, this H20 formwork beam is built to last.
Light weight and durable, our timber beams are excellent for structural elements in formworks. The ends are protected to prevent cracks and splintering. The timber beams are also coated to protect it against different conditions, perfect for the weather conditions in the GCC.
The Double T-section have a height of 200mm and width of 80mm. Standard sizes are: 2.45, 2.90, 3.30, 3.60, 3.90, 4.50, 4.90, 5.9m
Ulma and Delmon Props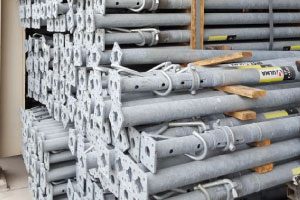 At Delmon we have a wide range of props to suit any application or budget.
Ulma EP props are suitable where high performance and load characteristics are required. These props are certified and are manufactured in Spain according to European Standard EN1065. They are hot dip galvanized to give long life and have a range of safety features to ensure worker safety.
Delmon Painted Steel props are suitable for less demanding applications and for limited budget. They do not share the same capacity as the EP prop range, but can still provide a very effective solution across a multitude of uses, including falsework support, as raking shores, and as temporary support.
Whatever your project we have extensive stock for both sale or rental and our expert staff will help you choose which option is best for you.
Formwork Accessories & Consumables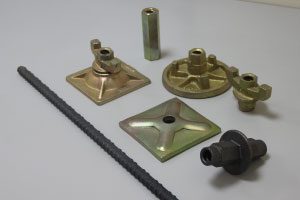 High quality formwork and scaffolding accessories are also available for sale on a commodity basis.
Tie Rod. Delmon stock a full range of European anchoring solutions. All sizes of tie-rods and their accessories are available along with expert advice on their correct use.
Scaffolding Accessories. Double couplers, swivel couplers, ladders, tags; we have a comprehensive range of scaffolding accessories in stock for all your needs.
Formwork Accessories. During construction activities, essential components such as pins, wedges, etc., are often lost. At Delmon, we supply a wide range of cost effective accessories for your running formwork systems.
Swivel Coupler
| Product | Code | KG |
| --- | --- | --- |
| Swivel Coupler | SC | 1.3 |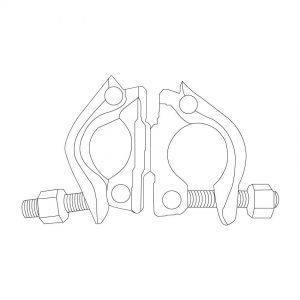 Gravlock Coupler
| Product | Code |
| --- | --- |
| Gravlock Coupler | FGR6.00 |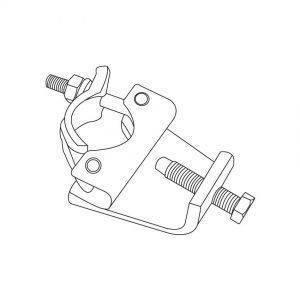 Wing Nut
| Product | Code | KG |
| --- | --- | --- |
| Wing Nut 15 | 230000 | 0.33 |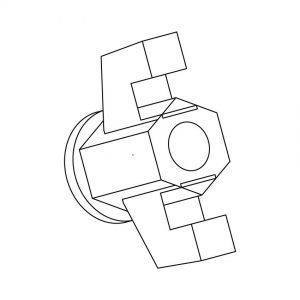 Loop Anchor DW15c
| Product | Code | KG |
| --- | --- | --- |
| Loop Anchor DW15c | 1861847 | 2.1 |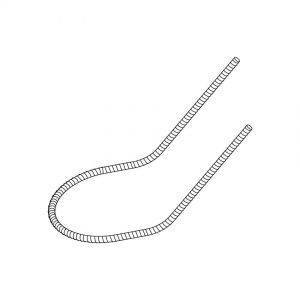 Universal Flange Clamp
| Product | Code | KG |
| --- | --- | --- |
| Universal Flange Clamp | 1960345 | 0.81 |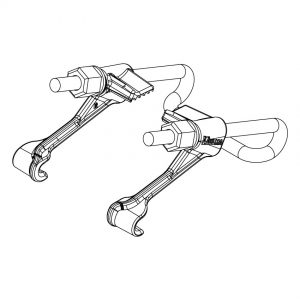 Tie Rod
| Product | Code | KG |
| --- | --- | --- |
| Tie Rod 15 | 230600 | 2 |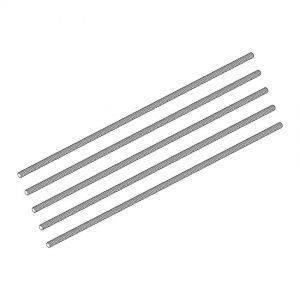 Fixed Double Coupler
| Product | Code | KG |
| --- | --- | --- |
| Fixed Double Coupler | DC | 1.2 |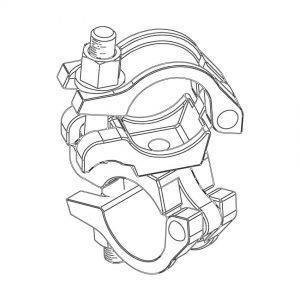 Single Coupler
| Product | Code |
| --- | --- |
| Single Coupler | SC |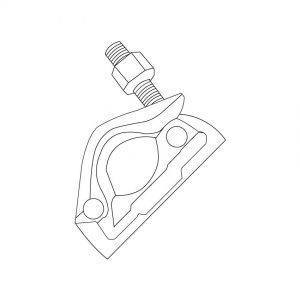 Hexagonal Coupler
| Product | Code | KG |
| --- | --- | --- |
| Hexagonal Coupler | 7238003 | 0.3 |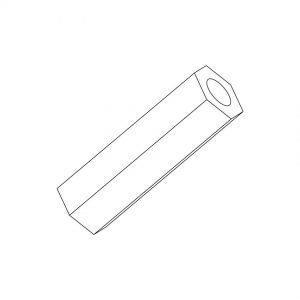 Timber Beam
| Product | Code | KG |
| --- | --- | --- |
| Timber Beam VM 20/2.45 | 1950129 | 12.3 |
| Timber Beam VM 20/2.9 | 1940144 | 14.5 |
| Timber Beam VM 20/3.3 | 1950130 | 16.5 |
| Timber Beam VM 20/3.6 | 1940146 | 18 |
| Timber Beam VM 20/3.9 | 1950112 | 19.5 |
| Timber Beam VM 20/4.5 | 1940178 | 22.5 |
| Timber Beam VM 20/4.9 | 1950113 | 24.5 |
| Timber Beam VM 20/5.9 | 1940149 | 29.5 |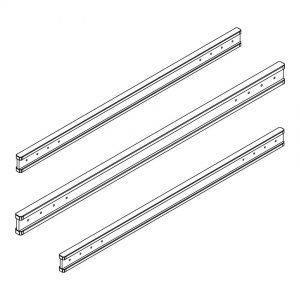 Board Retaining Clamp
| Product | Code |
| --- | --- |
| Board Retaining Clamp | BRC-001 |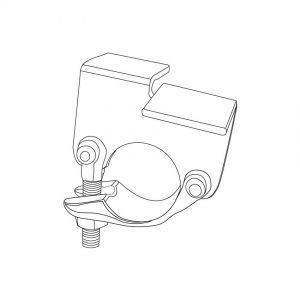 Universal Clamp
| Product | Code |
| --- | --- |
| Universal Clamp | UC |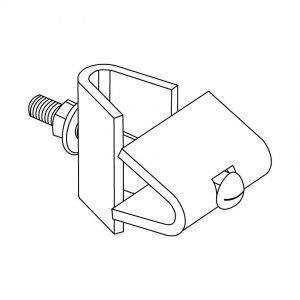 Water Stop
| Product | Code | KG |
| --- | --- | --- |
| Water Stop DW15 w/ Adapter | 230004 | 0.61 |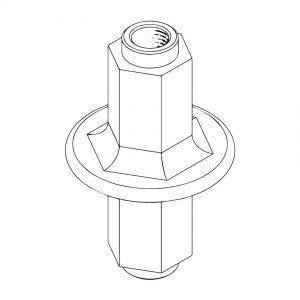 Pin E20 x 190
| Product | Code | KG |
| --- | --- | --- |
| Pin E20 x 190 | 1960003 | 0.4 |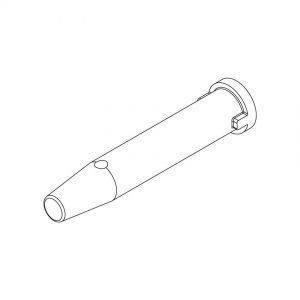 Waler DU
| Product | Code | KG |
| --- | --- | --- |
| Waler DU-100/0.5 | 1960005 | 10.2 |
| Waler DU-100/0.75 | 1960007 | 15.4 |
| Waler DU-100/1 | 1960010 | 20.5 |
| Waler DU-100/1.25 | 1960012 | 25.6 |
| Waler DU-100/1.5 | 1960015 | 31.1 |
| Waler DU-100/2 | 1960020 | 41.3 |
| Waler DU-100/2.5 | 1960025 | 52 |
| Waler DU-100/3 | 1960030 | 63 |
| Waler DU-100/3.75 | 1960037 | 78 |
| Waler DU-100/5 | 1960050 | 103 |
| Waler DU-100/6 | 1960060 | 125 |